I just spent the last hour racing in F1 2010 with my D-box. I can't really convey into words the awesomeness of this thing. Acceleration, braking, turning, all super enhanced and with the triple screens the immersion is pretty ridiculous.
One thing that not a lot of people know is that it has transducers in it as well that give you the most intense and realistic vibration and sense I've ever had. The buttkicker is a toy compared to this thing. It gave subtle rumble strips, collisions, and deep vibrations so strong that the contents of my stomach were literally moving around.
I goofed around with Flight Simulator X as well and all I can say is this is easily the best video game purchase I've ever made. I'm pretty shocked actually at how good it is because I wasn't expecting this.
OK, feel free to ask questions or as I know some will bag the crap out of the D-box but I'm a believer now. Best money I've spent in a while.
Here is the mount with 3 26" screens.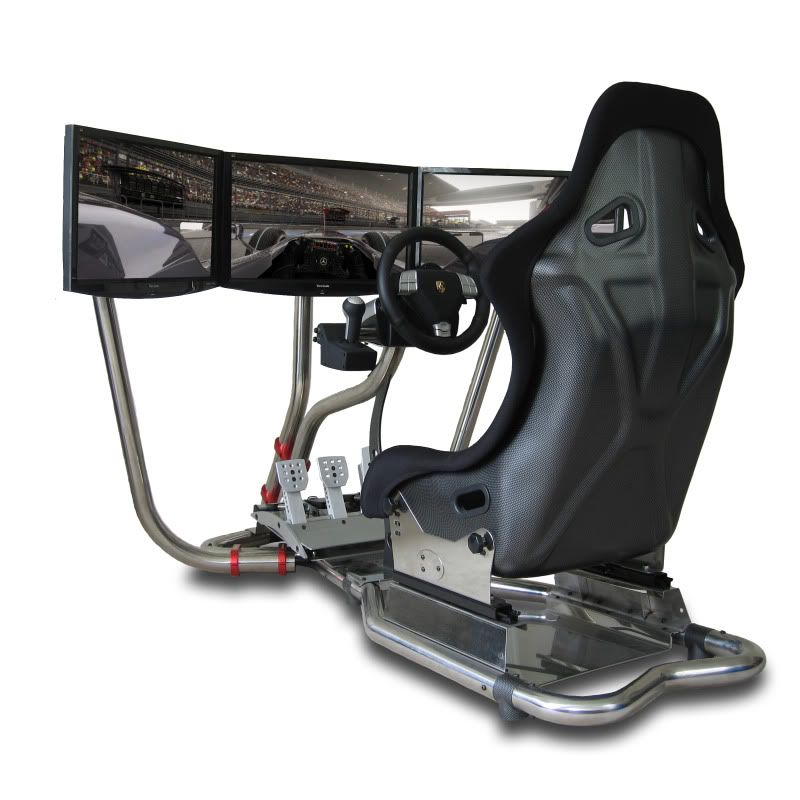 And here is the mount with three 46" projection screens.
, custom G27 pedals with perfect pedal, Nixm clutch, and aluminum housings. Also my modded shifter holder with Fanatec mount. This will be further modded. I have a 7 inch aluminum shifter shaft to replace the stock one.
Project is coming along swimingly.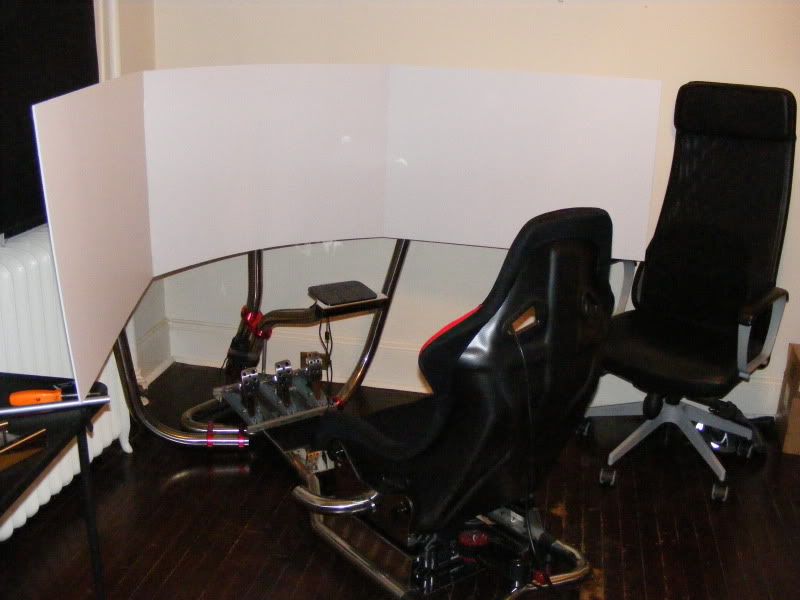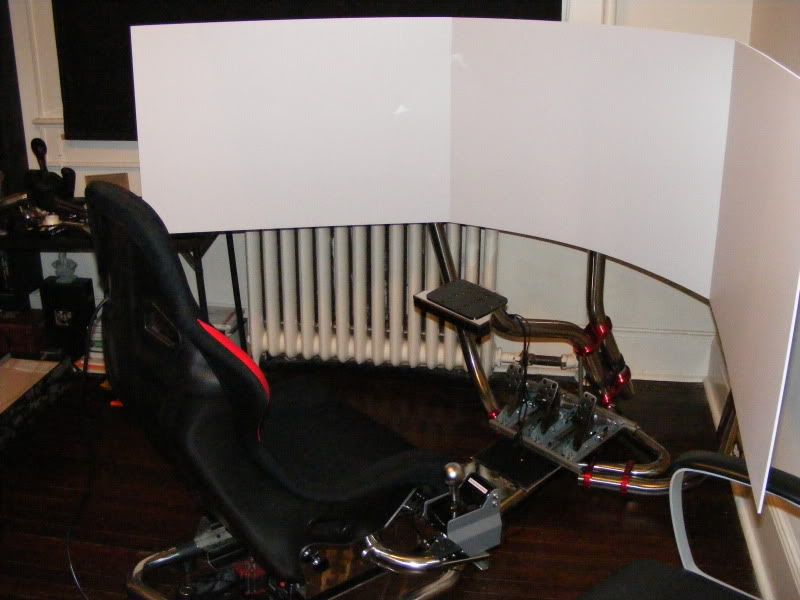 These are three 46" projection panels that will have Vicuiti 3M projection material. The Vicuiti material is amazing because you can project in direct sunlight with no brightness loss.
I'll have plenty more pictures over the next week. Finishing my projector mount, and a couple of other custom alterations. For those of you who complain about the center strut on the VR3, this rig now is the stiffest I've played in other than my hyperstimulator. I don't think there is a prettier rig, and now its one of the sturdiest, even if by mistake. LOL
Finished pics.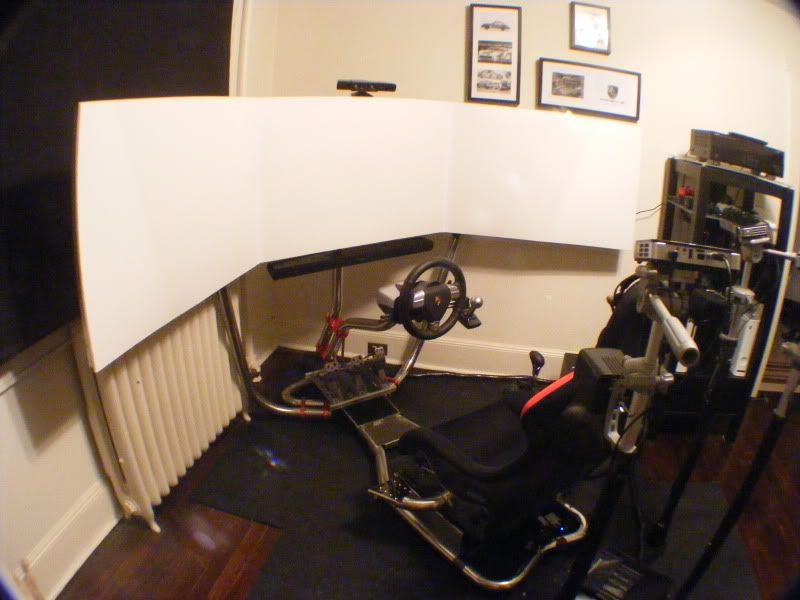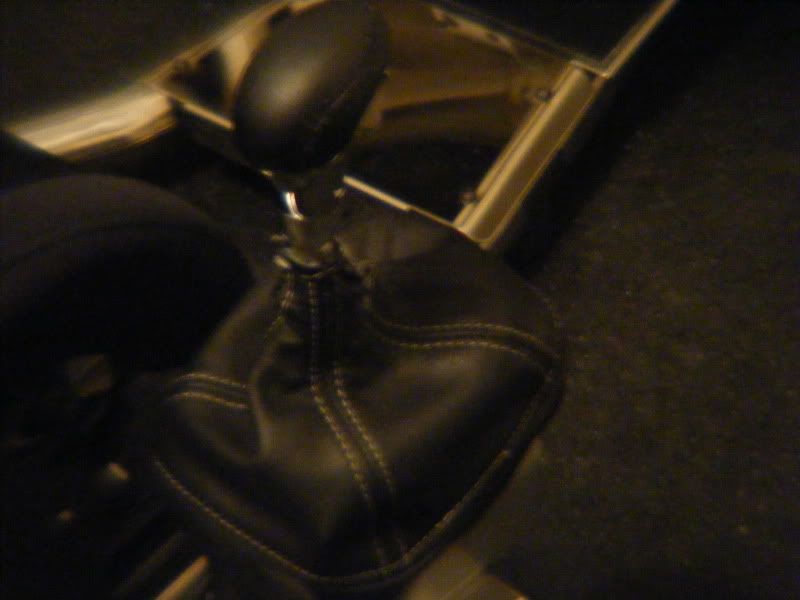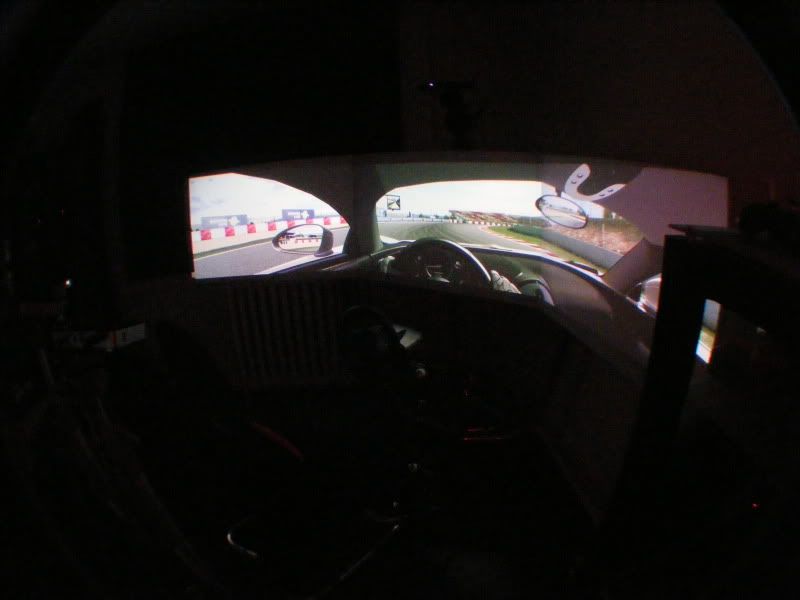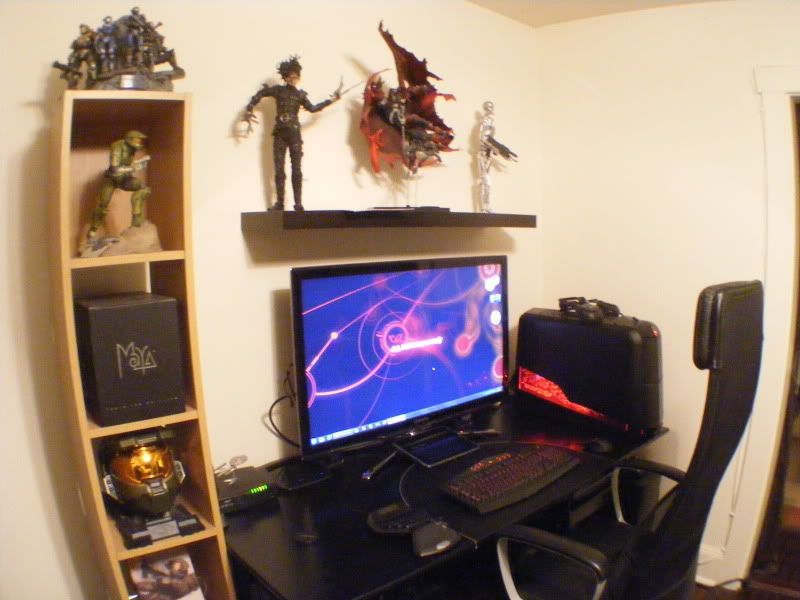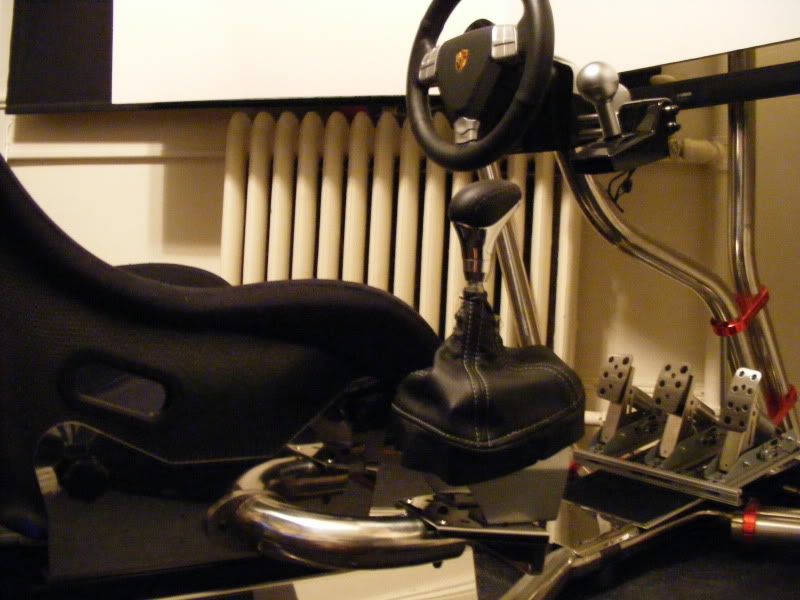 Edit: Youtube video in action.
Guys wanted to update you. I finally took a video with the camera duct taped to my head. So forgive any crappyness. Also the Camera is far from HD. You will see banding and color shifting. This is not the case when you are playing. Its the fact that the camera can't capture the DLP projectors quickly enough and will show color shifting and banding. just wanted to clear that up in case it scares people from DLP projectors. They are magnificent, the picture an immersion is complete.
I duct tape the camera to a hat and used both my fisheye lens and a normal lens so as to give you two perspectives. I'll take more videos of Gran Turismo an PC with head tracking. Hopefully I will get a HD camera soon. Forgive the blurriness.
Let me know if you have any questions.
EDIT: Hello gentlemen, I have bought a D-box platform. I also added dual TH8 shifters with an interface one adaptor to allow them to work with the Fanatec CSR Elite. My D-box sub frame is being constructed and should be here in a few weeks. In the meantime I'm using a pine panel.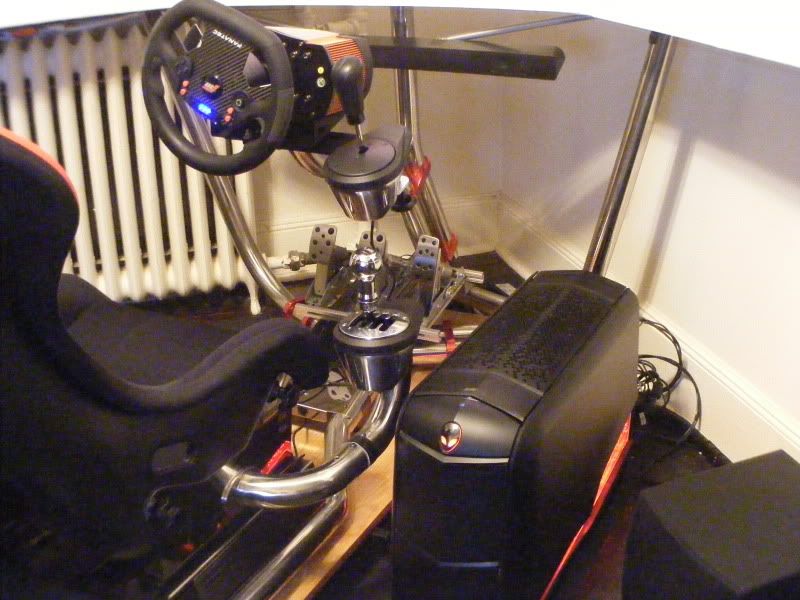 I'm uploading this pic to give some of you an idea of how to make the VR3 steering column rock steady. Not the only way but one of the ways. This is from Dubai.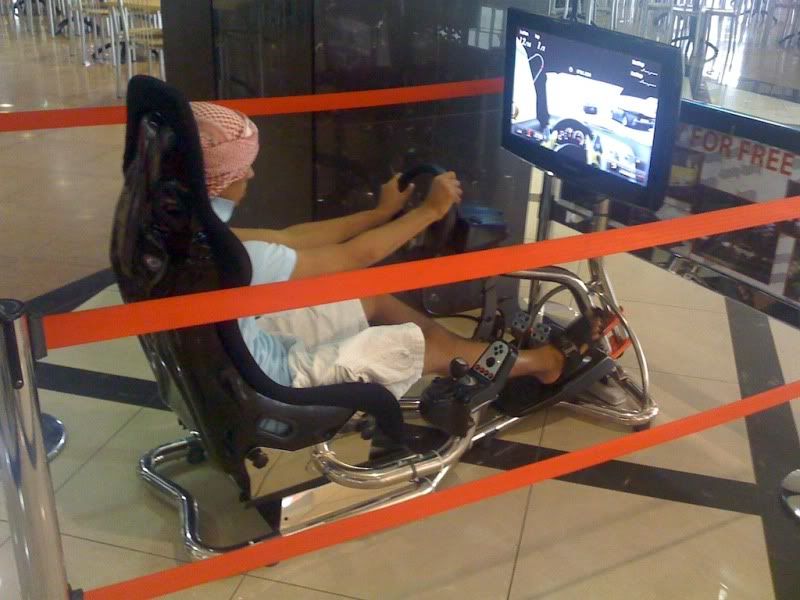 Little teaser of some new mods and things to come. Can't show the screen mount yet.
Custom TH8 handbrake with custom leather boot and aluminum handle.
Custom short shift plate for six speeds matching the Fanatec shifter.
Adapted the Fanatec shifter, which IMO is the best shifter knob I've held ever to the TH8. Matches great.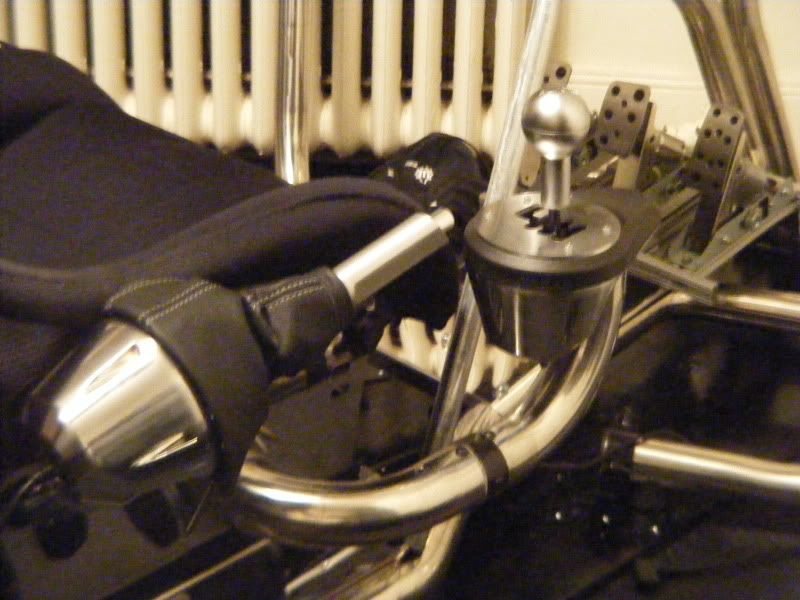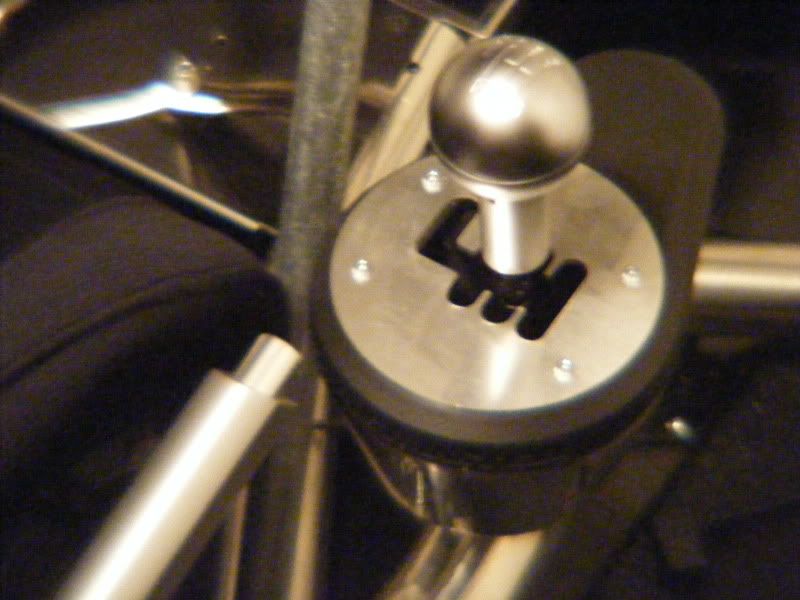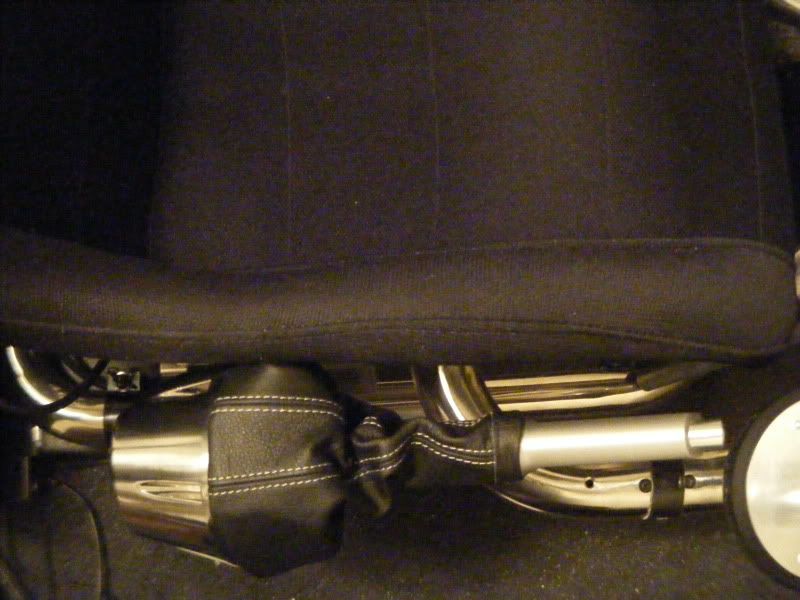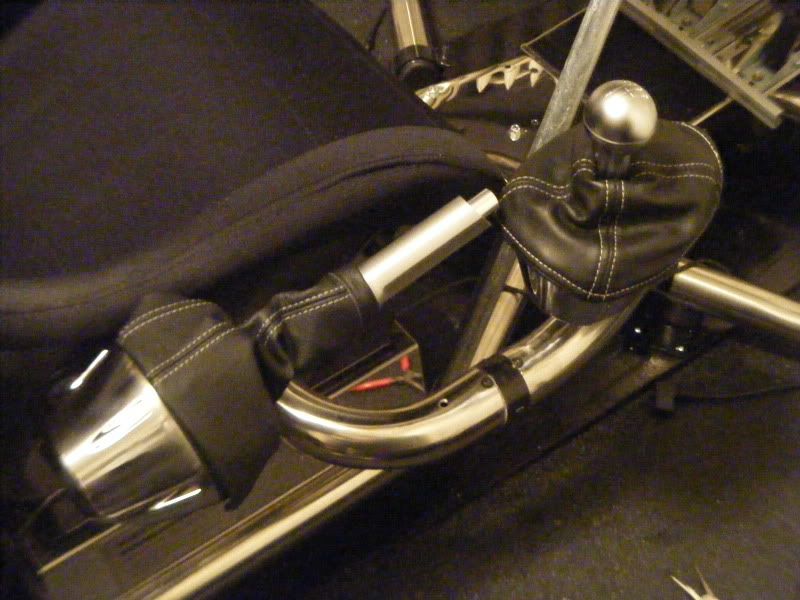 My custom mount for my button box. Made by Marcus. Thanks Marcus!!!
This works beautifully, so comfortable and looks great.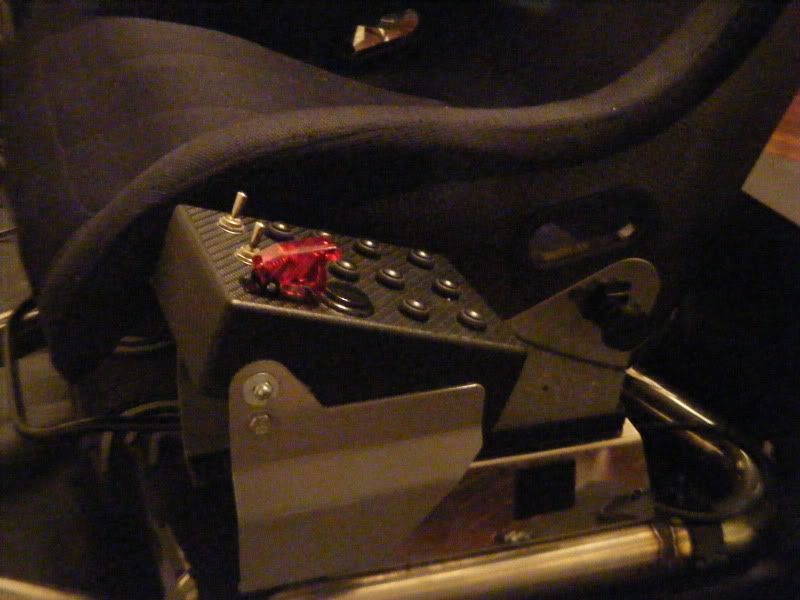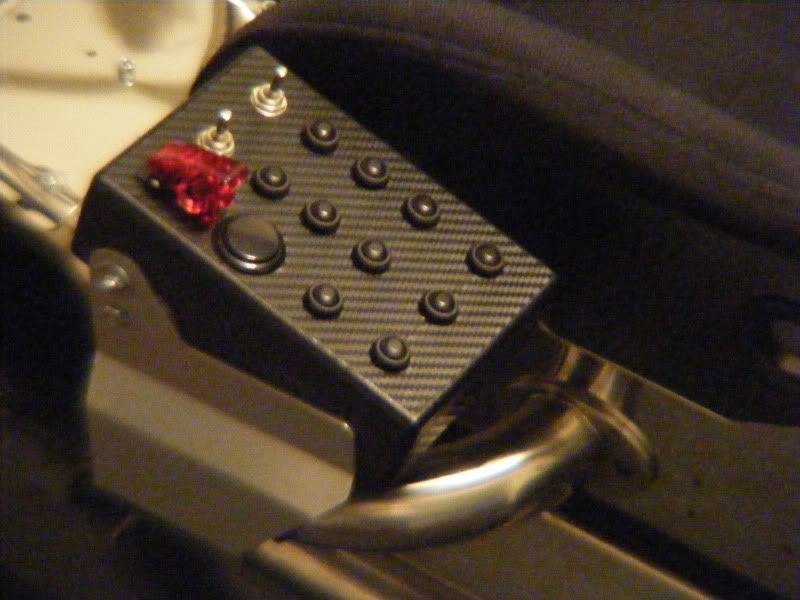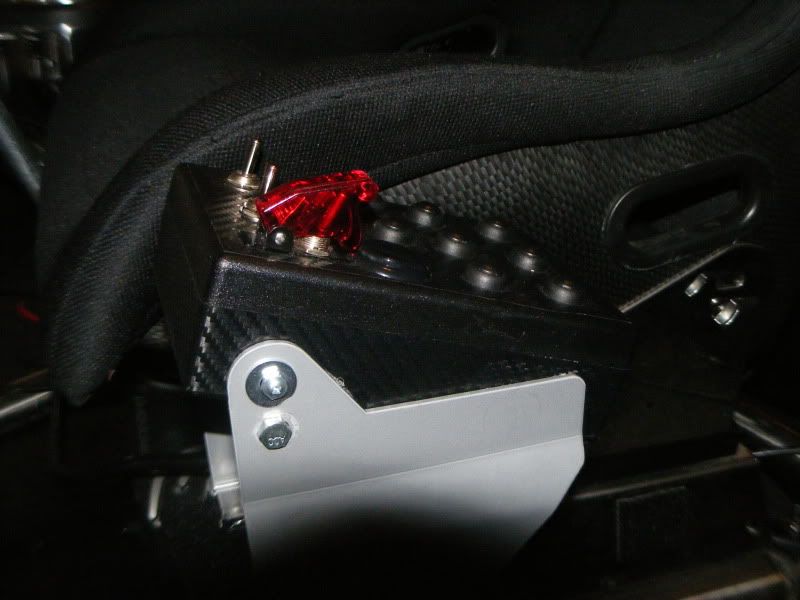 Made a custom mount for the Fanatec Sequential to match the knob on the TH8. Really solid using the X-CPO mount on the Fanatec aluminum bar for the table clamp. It worked out perfectly since the holes for the both the wheel and the clamp are identical.
I have matching custom leather boots for all three, the handbrake, sequential and H pattern. You can see a couple of them in the pic. They haven't been attached final, they're just placed there for the pic, they will fit much better once I'm done putting the rig back together. The handbrake feels great, I used the brake spring from a set of G27 pedals in a push mode instead of pull and used the core of a rubber ball inside the sprint, it feels almost like a real handbrake as far as pressure.
The short shift plate for the TH8 is just fantastic and can be flipped so reverse is on the other side. It gives nice short snick snick shift, with lots of positive feedback. The Fanatec shifter knob is just fanstastic. You may not like the CSR body, but the shifter is the best one I've ever used, ever. And it looks fantastic with the TH8.
Hope you guys enjoy and I've got a couple other mods down the pipeline. Keep experimenting.
update 3/31/12
Hello VR3 owners looking to delete your center support.
Been experimenting with the center support delete. Tried many different things. When I had the triple screen attached to the rig I didn't have to worry about it, since the triple screen was so solid and attached to the rig, there was no need for the center support. But since moving ot Dbox and detaching the triple screens from the rig and attaching them to the floor, I've looked for another solution.
I've tried about 6 different solutions and have come up with one that I think is the best. Ridiculously solid and stays with the form of the rig. I crafted these from 1" steel pipe and used a manual hand bender to get the curves. When you do something like this measure, measure, and measure again. Then measure again and check your angles. I went through 5 pairs before I came up with a set that was perfect.
The attach to the bottom of the wheel deck, curve around your legs and attach again down on the chassis. No flex at all horizontally or vertically. this is my final design for this particular mod. For those who wish to replicate it, the pipe must be 31 inches in length. Any diameter pipe can be used I guess if you have the equipment, but 1" pipe IMO looks best. Not to obtrusive yet super strong and light. Here are a couple of pics after painting. Matches the VR3 finish really closely. I'll be installing these tomorrow. Once my 50" screens arrive I'll take some more pics.
Now if only someone can get me a deal on two Dbox actuators!!! Grrrrrrrrrr.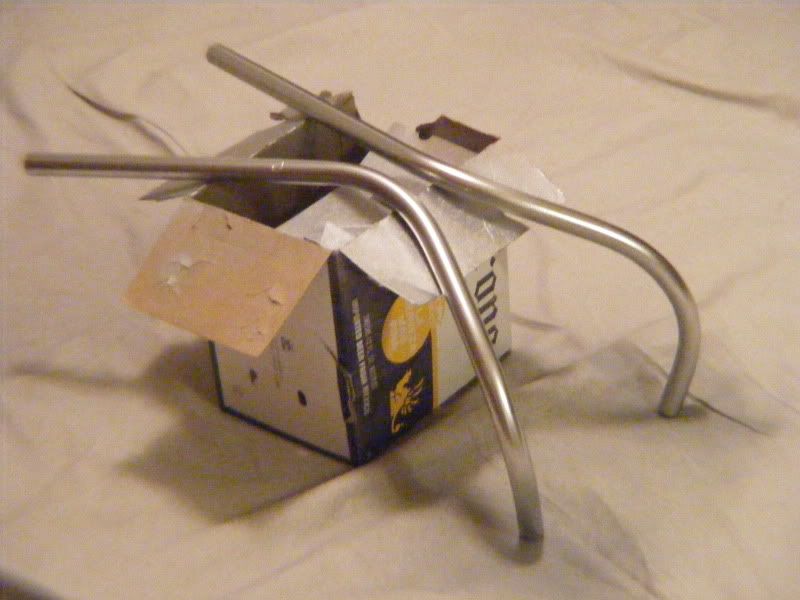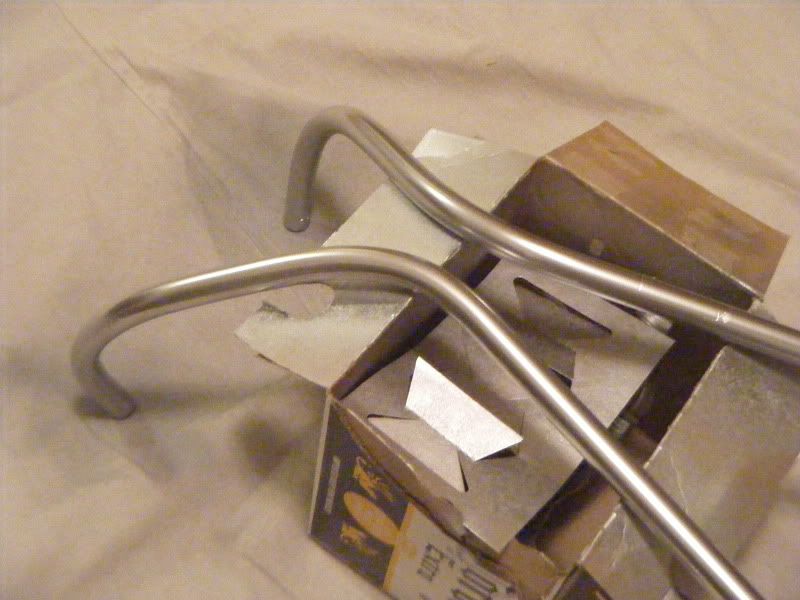 update 4/2/12
Check this out. Not 100% in place, still need to bolt down the aluminum ring but its coming together.
Added a stiffer rubber to the spring inside the handbrake, its really about perfect now. Wish I could add the "clak clak" of a real handbrake but the preassure is great. Can't have everything.
The shifter is AWESOME. I am using the short shift 6+1 I got fabricated from a friend over at GTPlanet. I then lined each gate with a rubber shim. The shifts feel almost real now. I've set the bolt on the shift stiff and loctite the thread, and with the rubber lining on the inside of the gate it feels almost right.
Now onto a couple other goodies.
Update 7/1/2012
My modded G27 pedals with Perfect Pedal, and pedal extensions made by me. They feel fantastic.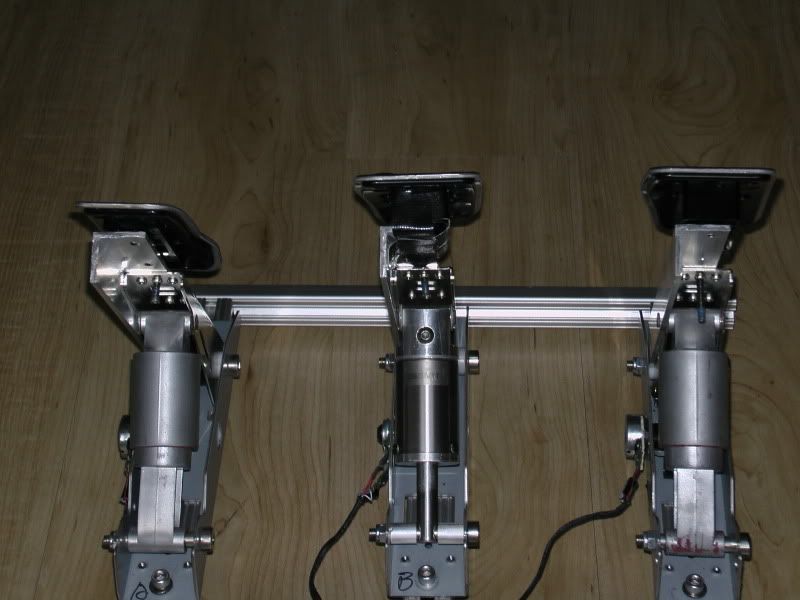 My rig in its current state. Please forgive all the dust and debri, I was just finished modded it and there was dust from drilling and sawing of aluminum and MDF.
D-Box 4 actuator system is all set up
You can see the front actuator just in front of the custom roll cage bars I hand bent to get rid of the center support. In this position the D-box actuators give better feedback and movement than at the front of the rig. the movement is more violent and convincing as well as the transducer effects enhanced.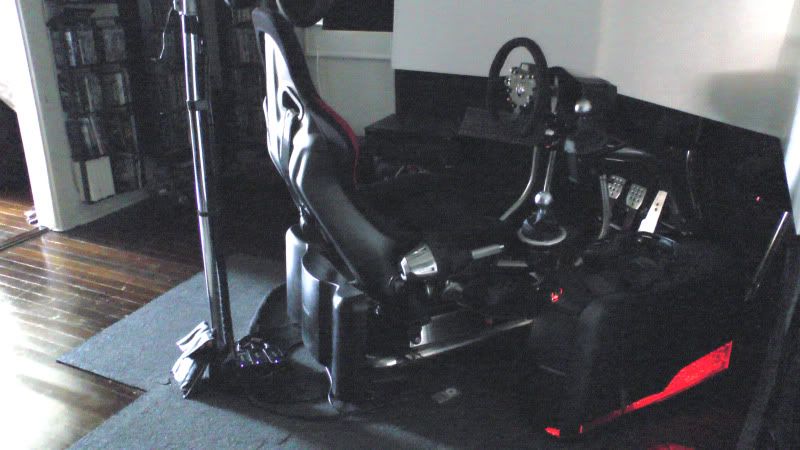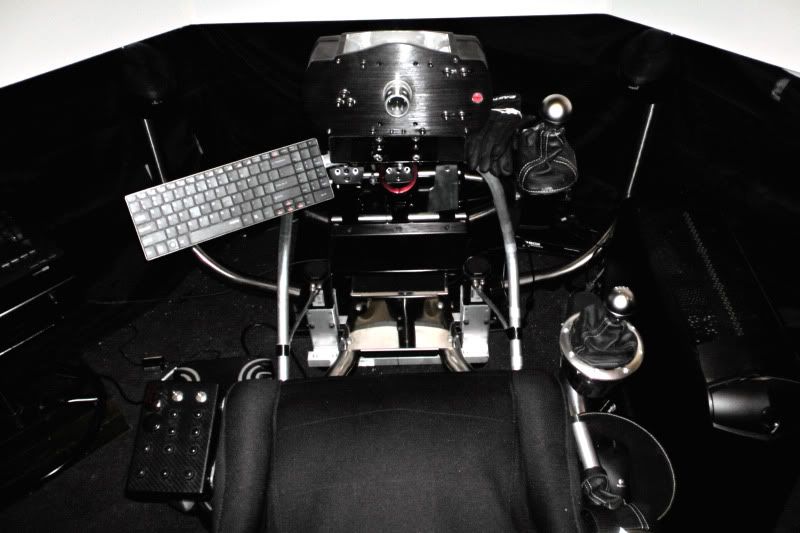 You get a good look at the wafer keyboard mount here.
My homage to Porsche
http://i5.photobucket.com/albums/y183/MAYAmaster/cockpit7.jpg
You can see the surround speakers mounted to the projector mount and also under each screen. The surround with the omnipolar speakers is fantastic.
http://i5.photobucket.com/albums/y183/MAYAmaster/cockpit8.jpg
http://i5.photobucket.com/albums/y183/MAYAmaster/cockpit10.jpg
http://i5.photobucket.com/albums/y183/MAYAmaster/cockpit11.jpg
An early shot of my custom VisonRacer/Fast Track Sims triple mount.
http://i5.photobucket.com/albums/y183/MAYAmaster/cockpit12.jpg
Right now I just have to clean up a few things from all the modding and construction. I have pretty much completed the rig with full Fanatec ClubSport wheel, rims, and accessories. As technology advances I'll keep changing the displays. Eventually I want to go for a 220 degree circular display using 4 or 5 projectors. LED projectors continue to advance and I'll use those since the color gamut is identical across the image. I'll update the thread as I add new equipment.
Thanks